In the overview below you can easily find which components are standard built on our machines and which options you can choose from. In this way, a custom machine is built that meets all your expectations and forms an indispensable pillar of your company and production for many years.
The basis of every Cyborg from the "Pro" series is a robust all-steel chassis. The wall thickness of the steel beams is 8 mm.
The mass of a machine largely determines how vibrations are absorbed.  The greater the mass, the less undesirable vibrations.
For some applications, an even heavier chassis is desirable. Therefore, we have developed the "H" series.  The chassis of these machines consists mainly of longitudinal and transverse beams of 200 mm x 400 mm with 10 mm wall thickness.  H-Series Cyborg milling machines, equipped with the appropriate spindles, can handle the heaviest routing jobs without any problems.
Each Cyborg has a HSD Mechatronics 7 kW spindle with ceramic bearings as standard. With this spindle, which has a high torque at any speed, you can easily route a wide variety of materials.
For routing jobs that can be done with a single tool, this spindle is an excellent choice.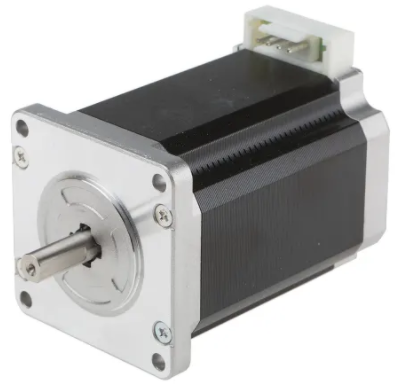 On the smaller machines in the Pro series, microstep motors are fitted as standard on all axles.  These motors are equipped with 10:1 planetary gearboxes.  This combination of motors and gearboxes ensures precise movements and a high level of operational safety.
These motors are set at a microstep resolution that results in 130 steps / mm on the X & Y axis and 400 steps / mm on the Z axis.  Higher accuracy, higher acceleration and higher speeds are possible when servo motors are mounted instead of stepper motors.
All Cyborg machines are exclusively built with helicoidal racks and gears. Angled racks are not only more accurate and precise than straight racks, the machine also achieves higher speeds.
The powerful Busch Mink claw pump is connected to the vacuum table and ensures that sheets are firmly sucked against the MDF loss material. These pumps require little maintenance and are extremely reliable.  Each machine comes standard with a remote control for the vacuum pump.
The vacuum table is divided into four or more compartments and consists of a wafer-iron structure. With manual valves or electronic pilot valves, the zones can be opened or closed individually.
Fully automated vacuum tables or special arrangements of the vacuum zones are possible too.
As standard, each machine is equipped with a light curtain mounted on the gantry, pressure strips and shields. In this way, the operator is optimally protected and the safety does not interfere with routing operations.
As soon as the light curtain is interrupted and / or the pressure strips are activated, the machine stops immediately. All machines are supplied with a CE conformity certificate and comply with the machinery directive.
Graphic designs have to be converted into a .cnc file, so that the machine can mill them to the desired size and according to the correct strategy. To create routing paths, we would like to suggest Enroute .
This professional CAM software allows the user to calculate milling paths in a user-friendly way. Your design can be created in different packages, such as Adobe Illustrator , Autocad , Solid Works , CorelDraw ,… Enroute has an extensive arsenal of import filters (.ai, .eps, .dwg, .dxf, .plt, .pdf,…) you so you don't have to convert your source file into another format.
Import the selected file and calculate the desired milling paths in Enroute, where you can easily set numerous parameters such as: feed, RPM, 3D-entry, nesting, milling direction, etc. ... You can save these parameters in strategies, no need to parameterize everything over and over again. An extensive Enroute training is provided by us.
Enroute is also available as a monthly subscription. Would you like to know more and try out Enroute 7 for 7 days?
Latest generation Yaskawa servo motors ensure that your machine moves quickly, accurately and very smoothly. Thanks to the Shimpo gearboxes (<3 arc minutes backlash!), every movement is executed smoothly and powerfully. 
Cyborg routers with a toolchanger are built as standard with servo motors.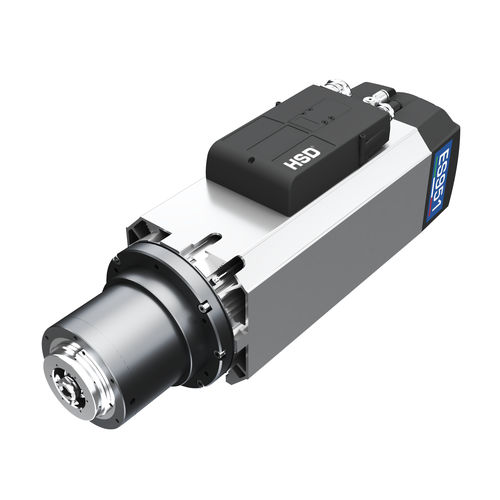 A toolchange spindle offers many advantages. A Cyborg router with an automatic toolchanger automatically selects the right cutters, which saves a lot of time. The powerful, air-cooled HSD Mechatronics ES 951 with ceramic bearings (9 kW - 12.2 hp) works with an HSK-F63 cones and has high torque at all speeds.
The maximum RPM of this Italian spindle is 24,000 RPM. The ER-40 collets are available for cutters with diameters from 2 mm to 26 mm. This spindle is suitable for milling various materials, including wood, plastics and non-ferrous metals.
The German Alfred Jäger has an excellent reputation
and this spindle lives up to all expectations.
The water-cooled Z100H has a high torque
at all speeds and can run up to 40,000 RPM.
The clamping system is of type HSK-E32. This allows you to clamp cutters from 2 mm to 20 mm in diameter.
The maximum power is 12 kW (Pmax/5s). At 60% load (S6) the power is 8kW. This spindle was developed for milling plastics and non-ferrous metals and is extremely suitable for milling PMMA (acrylic glass) in a shiny finish, but it is also a good choice for machining aluminium and for 3D applications.
A linear tool changer is located at the back of the machine and contains 6, 8 or 10 change positions depending on the width of your Cyborg. Each position is protected with an inductive proximity switch. This way, the machine knows permanently which positions are free and which ones are occupied. Collisions and crashes are ruled out forever.


Thanks to the electronic calibration block, the machine always remembers all the lengths of each individual tool.
A rotating tool changer is located on the XA side of your Cyborg machine. The rotating carousel contains 12 switch positions. As with the linear tool changer, the change position is secured with an inductive proximity switch to avoid collisions.
H series machines have a rotary tool changer with auto opening and closing hood. As you can see, it immediately becomes clear what advantages a tool changer offers!
We developed the "motorized dust collector" to get rid of having to manually adjust the extraction every time. This automated version takes into account the length of your tools and the milling depth and adjusts automatically.
The extraction is always at the correct height, so that chips are always extracted as optimal as possible.
When machining aluminum, brass, ... it is preferred to use a coolant spray system. Such a system not only ensures that the life of your cutters is extended, it also ensures an even better edge finish. The micro drop system ensures that your cutters are cooled by means of a haze, without the entire plate getting wet. The Cyborg's control switches the cooling system on and off automatically, in order to use the coolant as optimally as possible.
You can choose from different coolant spray systems, such as Fog Buster , HPM , Pomac ,…
A vacuum cleaner is indispensable for removing chips, dust and residue.
The Riedex DM-160 is a particularly powerful vacuum cleaner (1448 m³ / h) that can be used for both wood and metalworking.
This vacuum cleaner is automatically switched on and off by your Cyborg, the filters in the vacuum cleaner are automatically cleaned with compressed air. Chips and waste are collected in a collecting bin on wheels, which can be easily removed from the vacuum cleaner and emptied.
This device is CE, DG and DGUV compliant and can operate a maximum of 5 machines.
If you want to route plates which have prints made with a large format printer, a camera is an indispensable accessory. Besides your design, also print 4 fidicuals (reference points) with a diameter of 6 mm on the plate.
The Cyborg camera system detects the 4 circles and will adjust the routing job in real-time based on the position and deviation of the circles.
So if your design has been stretched, shifted or scaled, no problem, the routing job will be adjusted immediately and your parts will be routed to the correct size.
Some materials are better cut than routed. Just think of paper, cardboard, thin foam, Forex, ... That's why we developed a cutting system. The knife is placed to the left of the spindle. You can choose from a single or a three-headed cutting system. The system then contains an electric oscillating knife, a tangential knife and a folding wheel for creasing cardboard. In order to cover the entire table with the knife, the bridge is extended by 250 mm on the XA side.
Pneumatic pins or "pop-up pins" are very useful when you want to place your plate or material at right angles to the milling machine. When you start loading the material, the pins will come up. You slide the plate against the pins and then they sink away again. You can choose fixed pens as well as movable pens. Do you prefer blocks instead of cylinders? That is also perfectly possible. 
Due to thickness differences in your material, it is sometimes difficult to make folding lines or engravings that are equally deep everywhere. This problem can be solved with our digital surface surface mapper. You determine the pitch distance (resolution), your Cyborg measures the plate with a probe. A 3D point cloud is created on which your milling file is projected. The Z-axis values ​​are adjusted in real-time during the job, so that your folding lines and / or engravings have the same depth everywhere.
The LED pointer makes accurate zeroing very easy. Switch on the LED pointer, a bright green or red LED cross shines on your table. Use the arrow keys to move the cross to the desired position. The machine knows the exact offset between the spindle and the LED cross and will stand perfectly above the requested origin point.
Each machine equipped with a tool changer is also fitted with an LED pointer.
The standard clearance of our machines is 200 mm. However, if you have thicker pieces that need to be routed, the pass-through can be increased to 400 mm. We therefore extend the Z-axis, so that you can move long tools over your material. and short tools can still move against the table surface.